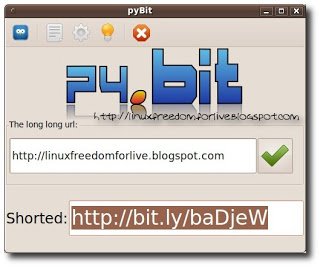 PyBit è una piccola (e semplice) utility scritta in wxPython per abbreviare gli URL con alcuni dei migliori motori di accorciamento come: bit.ly, cli.gs, is.gd e smsh.me e inviare aggiornamenti sullo stato di twitter o identi.ca. L'applicazione è semplicissima da utilizzare basta inserire il link da accorciare sullo spazio apposito e cliccare sul tasto verde ed ecco il nostro link accorciato. Se vogliamo utilizzare un'altro servizio di accorciamento basta cliccare su preferenze e inserire il servizio che noi vogliamo utilizzare.
Ecco le novità della nuova versione 2.2.0 tratte dal sito del produttore:
Problems with saving and showing the default engine were fixed. Restarting is no longer required to apply the changes (only for the twitter/identica icon). The preferences dialog… is automatically closed after saving changes
Per installarlo su K|X|Ubuntu basta scaricare il file .deb dal link posto sotto cliccarci sopra e confermare oppure aprire il terminale  e scrivere:
sudo dpkg -i *.deb
e poi

sudo apt-get install -f
confermiamo e alla fine avremo il nostro pyBit installato.
Per maggiori informazioni consiglio di consultare il sito del produttore accessibile direttamente dal link posto qui sotto.
home
download pybit_2.2.0_all.deb
download pybit_2.2.0.tar.bz2