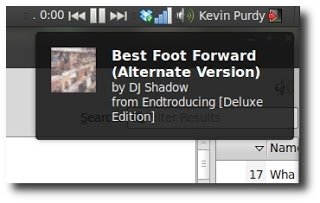 Panflute è un semplice applet per Gnome attraverso il quale permette di controllare qualsiasi lettore musicale è attualmente in esecuzione.
Ecco le novità della nuova versione 0.6.2 tratte dal sito del produttore:
· Fixed incorrect play/pause button behavior with Exaile 0.3.0 and later. Fixes lp:515253
· Recover from a wider variety of errors when loading player support modules. Fixes lp:523696
· Fixed increasing CPU usage by song info tooltips. Fixes lp:531102
· Don't launch Banshee via D-Bus to work around a Banshee bug that prevents radio streams from playing. Fixes lp:535479
· Fixed format string error in Polish (pl) translation. Fixes lp:521502
Ecco come installare Panflute su Ubuntu 9.10 Karmic e 9.04 Jaunty
Apriamo il terminale e per prima cosa installiamo la la chiave d'autentificazione e i repository copiando quanto riportato sotto:
Per Ubuntu 9.10 Karmic
sudo add-apt-repository ppa:kuliniew/ppa && sudo apt-get update
Per Ubuntu 9.04 Jaunty
sudo echo "deb http://ppa.launchpad.net/kuliniew/ppa/ubuntu jaunty main" | sudo tee -a /etc/apt/sources.list && sudo apt-key adv –recv-keys –keyserver keyserver.ubuntu.com 0x37cbed6084b0bc79bff3f4efafdd8d80f88df1b9 && sudo apt-get update

ora se abbiamo Panflute installata in una versione precedente basterà aggiornare la nostra Distribuzione altrimenti installiamo Panflute con un semplice:
sudo apt-get install panflute
confermiamo e alla fine avremo il nostro Panflute installato. Una volta installato portiamoci in un punto del pannello del nostro Gnome e con il tasto destro clicchiamo su Aggiungi al Pennello e scegliamo Panflute e clicchiamo su Aggiugi.
Per maggiori informazioni consiglio di consultare il sito del produttore accessibile direttamente dal link posto qui sotto.