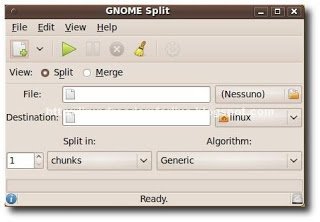 GNOME Split è una semplice applicazione, scritto in Java e utilizza una interfaccia utente GTK (grazie al progetto java-gnome), per dividere in file più piccoli un file più grande e permette di ricomporre il tutto.
Ecco le novità della nuova versione 0.6 tratte dal sito del produttore:

* Move 'Simple' algorithm to 'Generic'.
* Option to open a file after a successful merge.
* Make generic merger accepts *.000 files.
* Fix a bug that appeared when quitting the program.
* Enhance the command line handler.
* Add KFK split and merge algorithms.
* Add assistants item to the status icon menu.
* Add 3 new actions to the help menu.
* Add details to the error dialog.
* Fix cosmetic bug when using status icon.
* Add action to customise the interface.
* Fix default view selection.
* Use XDG based directory to store the config.
* Cosmetic change for the main window.
* Add an option to the exit dialog.
* Add support for the 'date' field of the Xtremsplit algorithm.
* Depend of java-gnome >= 4.0.15.
* Add German translation (Mario Blättermann).
* Add Brazilian Portuguese translation (Magnun Leno).
* Add Georgian translation (al_x).
* Update French translation (Guillaume Mazoyer).
Ecco come installare GNOME Split su Ubuntu 9.10 Karmic.

Apriamo il terminale e per prima cosa installiamo la la chiave d'autentificazione  e i Repository alla nostra Distribuzione scrivendo:


sudo add-apt-repository ppa:gnome-split-team/ppa && sudo apt-get update
ora se abbiamo GNOME Split installata in una versione precedente basterà aggiornare la nostra Distribuzione altrimenti installiamo GNOME Split con un semplice:
sudo apt-get install gnome-split

e confermiamo. Ora avremo GNOME Split installato nella nostra Distribuzione

In caso di future nuove versioni ci basterà aggiornare la nostra Distribuzione.
Per maggiori informazioni consiglio di consultare il sito del produttore accessibile direttamente dal link posto qui sotto.