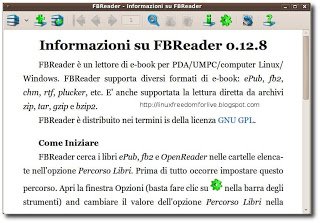 FBReader è un ottimo lettore di eBook multipiattaforma disponibile sia per ambienti desktop KDE e Gnome. L'applicazione supporta diversi formati di eBook tra i quali ePub, Mobipcket non protetti (Non-DRM), fb2, html, txt, chm, rtf, plucker ed è in grado di leggere direttamente da archivi compressi zip, tar, gzip e bzip2. Le funzioni del lettore sono semplici ed essenziali. Gli eBook caricati nelle lettore sono organizzati in una pratica Biblioteca che consente di raggrupparli per Autore o per Tag.
Ecco le novità della nuova versione 0.12.8 tratte dal sito del produttore:
· Smashwords library support has been improved: purchase links have been added.
· LitRes library support has been updated: since this version FBReader uses an OPDS proxy located at http://data.fbreader.org/ for most operations with the LitRes catalog.
· Processing of the xhtml hyperlinks in html encoded form (like /files/This is a link) has been fixed.
· A seg.fault during scanning several archives has been fixed.
· Lithuanian localization has been updated.
· Vietnamese language/encoding detection patterns have been added.

Ecco come installare/aggiornare la nuova versione 0.12.8 su Ubuntu e Debian
Per prima cosa se abbiamo una versione precedente alla 0.12 dobbiamo rimuoverla avviando il terminale e scrivere:
sudo apt-get remove fbreader
e confermare.
Ora integriamo i repository nella nostra Distribuzione scrivendo sempre da terminale:
sudo echo "deb http://www.fbreader.org/desktop/debian stable main" | sudo tee -a /etc/apt/sources.list
e ora integriamo  la chiave d'autentificazione scrivendo:
wget http://www.fbreader.org/desktop/debian/geometer.fbreader.org.asc

e poi

sudo apt-key add geometer.fbreader.org.asc
ora installiamo nuovo FBReader scrivendo:
sudo apt-get update && sudo apt-get install fbreader
e confermiamo.
Ora avremo la nostra FBReader installata nella nostra Distribuzione
In caso di future nuove versioni ci basterà aggiornare la nostra Distribuzione.
Per maggiori informazioni consiglio di consultare il sito del produttore accessibile direttamente dal link posto qui sotto.
home