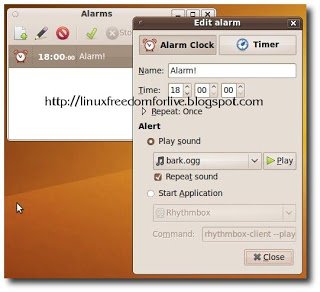 Alarm Clock è un'applicazione attraverso la quale possiamo essere avvisati in un momento in cui lo si vuole essere. Saremo avvisati tramite un suono che può essere anche una canzone musicale ed il messaggio che si vuole, possono essere anche ripetuti più di una volta.
Ecco le novità della nuova versione 0.3 tratte dal sito del produttore:
* Alarm Clock has moved to the notification area and can be started as a normal application
* An option to autostart Alarm Clock on log in has been added
* Blink icon when an alarm is triggered
* General User Interface improvements
* Improvements to the alarm list window
* Add sorting of the alarm list
* Notify bubble improvements – remove per-alarm notify bubble settings
* Snooze improvements – global snooze settings, enable snooze for timers
* Add translation support – translations are now done in Launchpad

Per installarlo su Ubuntu 9.10 Karmic basta scaricare il file .deb dal link posto sotto cliccarci sopra e confermare oppure aprire il terminale  e scrivere:

sudo dpkg -i *.deb
e poi
sudo apt-get install -f
confermiamo e alla fine avremo il nostro Alarm Clock installato.
Per maggiori informazioni consiglio di consultare il sito del produttore accessibile direttamente dal link posto qui sotto.

home
download Ubuntu 9.10 Karmic 32 bits
download Ubuntu 9.10 Karmic 64 bits