Scaldate i motori perchè Micro Machines World Series sta per arrivare su Linux.
L'arrivo di Micro Machines World Series, sviluppato da Codemasters, su Linux non era affatto preventivabile. Il gioco verrà rilasciato per PlayStation 4, Xbox One e PC il prossimo 23 Giugno 2017.
Poco tempo fa la pagina del gioco su Steam è stata aggiornata con il logo si SteamOS. Successivamente è stata modificata anche la pagina SteamDB.
Dopo aver lasciato tutti questi indizi gli sviluppatori hanno annunciato ufficialmente il porting anche per Linux con un tweet, eccolo: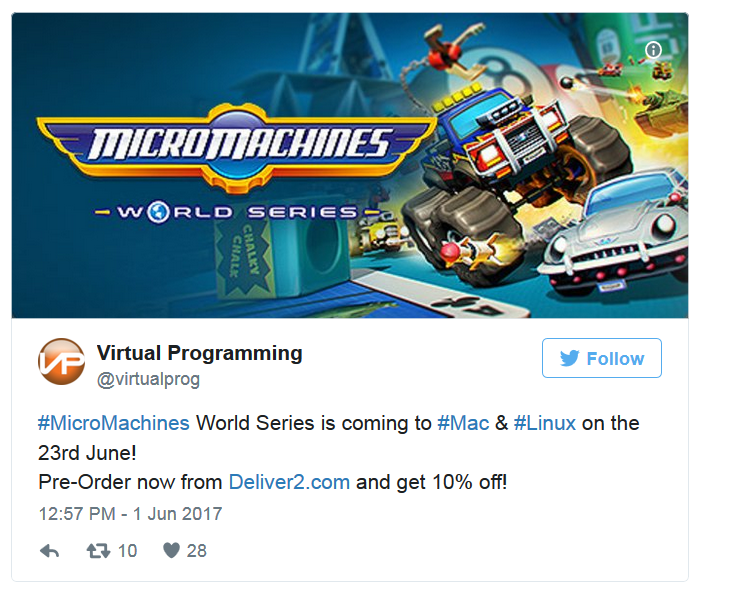 I requisiti di sistema per Linux richiedono OpenGL 4.2, Mesa è supportato per schede AMD mentre Wayland non è supportato.
'Micro Machines World Series' arriva su Linux!
Micro Machines World Series mantiene il gameplay social e frenetico della serie classica, aggiornato con una splendida grafica HD che vi riporterà in giardino, in cucina, in officina ed in molti altri grandi luoghi con questi incredibili veicoli in miniatura.
Oltre alle modalità di gioco classiche come Race e Elimination, Micro Machines World Series introduce delle nuove arene di combattimento che permettono di seminare distruzione di massa su una scala in miniatura contro i tuoi amici o l'intelligenza artificiale. Mentre, il gioco di squadra consente di lavorare insieme utilizzando le abilità uniche dei vostri veicoli nelle modalità "Capture the Flag" e "King of the Hill".