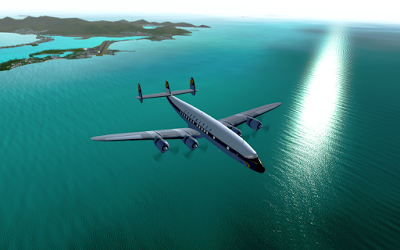 FlightGear è un simulatore di volo completamente Open Source nato nel 1997, disponibile su tutte le principali piattaforme (Windows, Mac, Linux, etc) e sviluppato da diversi developers volontari di tutto il mondo.
Il codice sorgente dell'intero progetto è facilmente reperibile in rete e si trova sotto licenza GNU (General Public License).

L'obbiettivo del progetto FlightGear è di creare un sofisticato e realistico simulatore di volo libero da utilizzare per la ricerca per scopi accademici, per l'allenamento dei piloti, come strumento per l'ingegneria o semplicemente come simulatore di volo per puro divertimento.
Sono diverse le possibilità offerte da questo simulatore di volo Open Source, che lo rendono molto interessante ed utile a diverse persone appassionate al genere.
FlightGear vanta ben 400 diversi modelli di aerei, uno ambiente di volo quasi globale ed una sezione multi-player, oltre ad un sistema di modellazione dei veivoli particolarmente flessibile e completamente Open. Non manca poi il supporto al multi-display, diverse opzioni legate al networking ed un potente linguaggio di scripting, il tutto in un'architettura completamente Open.
FlightGear 2016.2 Highlights
Di seguito vi riportiamo le principali novità della nuova edizione 2016.2:
Video configuration can be saved.
The TerraSync server has been switched to using HTTP instead of SVN.
All scenery models have been cleaned up and moved to TerraSync.
ATIS and METAR
Various improvements in the reporting of wind, atmospheric pressure, and sky cover.
Custom ATIS formats for the US/Canada/Pacific region and the UK based on real recordings.
Bug fixes and data updates to reduce occurrence of NIL weather.
Atmospheric Light Scattering
Filters have been added, enabling infrared and night-vision views
ALS procedural lights
Environment Rendering
A bug that prevented precipitation from appearing has been fixed.
Birds
Multiplayer
A bug in the multiplayer protocol has been fixed.
Usability
Route manager now allows entry of a space separated list of waypoints.
Internationalization
The Italian translation for menus, loading messages and help for command line switches has been updated.
Scenery
Further improvements to regional textures.
New buildings for London Heathrow
New buildings for Barcelona (+30)
Nasal Scripting
A bug in math.clamp() has been fixed.
Highlighted new and improved aircraft
Parachutist
Piper J3 Cub
Boeing 757
Extra EA-500
Saab JA-37 Viggen
Cessna 182S Skylane
Space Shuttle
Boeing 757
Beagle Pup
Icaro Laminar 13 MRX (Weight-shift controlled hang glider)
Guida all'installazione su sistemi Linux Mint ed Ubuntu.
Il software è disponibile tramite PPA, ed è facilmente installabile su Ubuntu 16.04 Xenial Xerus, Ubuntu 15.10 Wily Werewolf, Ubuntu 15.04, Ubuntu 14.10, Linux Mint e derivate.
Ciò che dovete fare è aggiungere le PPA al vostro sistema, aggiornare l'indice dei repository locali ed installare il pacchetto tramite i seguenti comandi dal terminale:
sudo add-apt-repository ppa:saiarcot895/flightgear-edge
sudo apt-get update
sudo apt-get install flightgear
Il codice sorgente ed i pacchetti binari, invece, saranno presto resi disponibili nella relativa sezione di download.
[Fonte]