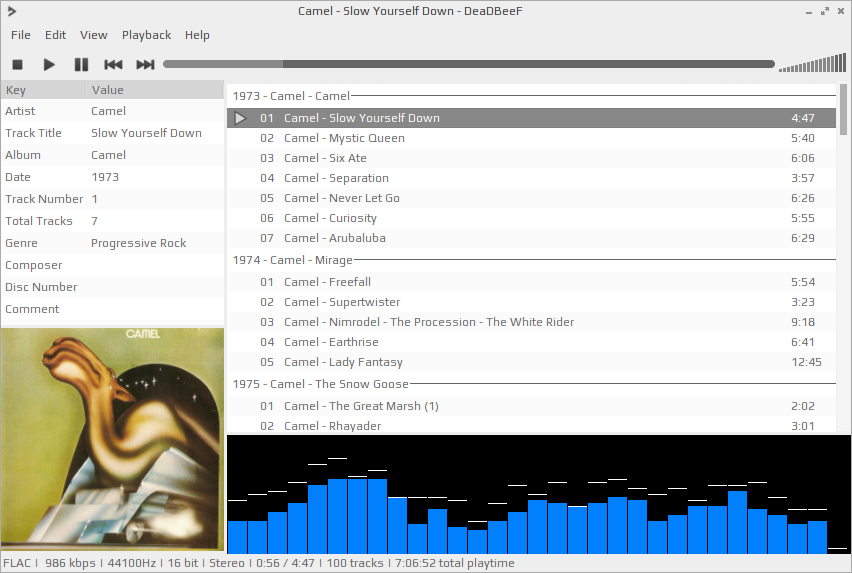 Come molti di voi sapranno DeaDBeeF è un player multimediale per Linux scritto in C++. Supporta tantissimi formati come  mp3, ogg, flac/oga, ape, wav, wv/iso.wv, aac/m4a, alac, mpc/mpp/mp+, tta, wma, shn, sid, nsf, mod, s3m, vtx, vgm/vgz, psf, midi, audio cds, e molti altri ancora!

L'ultima versione disponibile, la 0.7.1.2, ha diverse novità interessanti e molti fix, vediamone alcuni:

fixed GTKUI maximized window layout saving/restoring
fixed GTKUI maximized window column autoresize saving/restoring
fixed artwork plugin version checks
disabled bogus shift-jis detection, which was overriding cp1252
fixed mp3 bitrate calculation regression
fixed wrong padding of formatted time
fixed importing legacy title formatting fields bug
fixed incorrect output format after resuming paused session
fixed $ext title formatting bug
fixed %tracknumber% title formatting bug
fixed auto-updating title formatting fields
fixed FreeBSD compile issues
fixed cache cleaner crash bug
fixed crash when trying to play GYM files
fixed importing legacy playlist grouping config
fixed FLAC metadata field mapping
fixed FLAC metadata track/total and disc/total splitting
Istruzioni per l'installazione:
Per installare DeadBeef su Ubuntu 15.10 Wily Werewolf, Ubuntu 14.04 Trusty Tahr, Linux Mint 17.x, o Elementary OS 0.3 Freya dovete seguire i passaggi sotto riportati:
$ sudo add-apt-repository ppa:starws-box/deadbeef-player
$ sudo apt-get update
$ sudo apt-get install deadbeef
Invece per rimuoverlo è sufficiente imporre:
$ sudo apt-get remove deadbeef
Per maggiori informazioni su questo player vi rimando alla pagina ufficiale.
[Fonte]