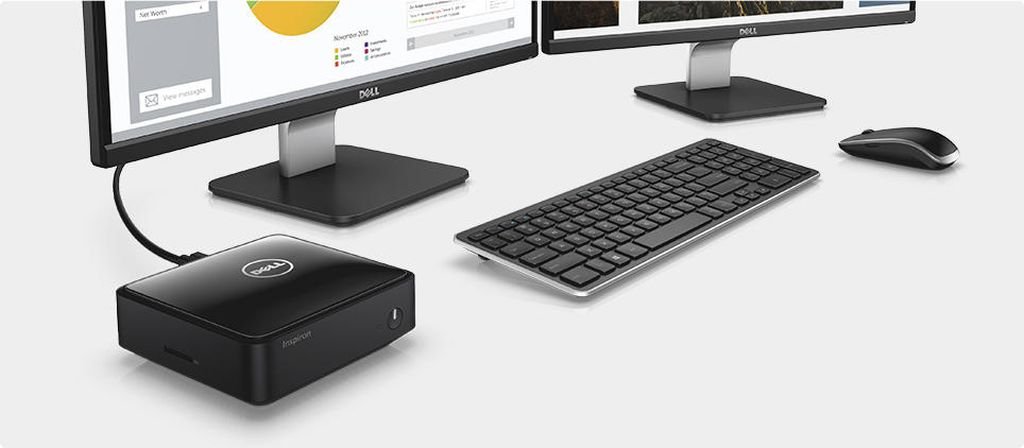 Dell ha ufficialmente avviato la commercializzazione del nuovo mini pc Inspiron Micro Desktop, ecco le principali caratteristiche.
Negli ultimi anni abbiamo visto approdare nel mercato molti nuovi personal computer compatti disponibili sia con Windows, Linux o Chrome OS. A puntare sul settore mini pc troviamo anche Dell, azienda produttrice statunitense che ha
recentemente presentato
la nuova gamma Inspiron Micro Desktop
, personal computer compatti basati su processori Intel e venduti a partire da 179 Dollari.
Dell Inspiron Micro Desktop è una gamma di pc compatti in grado di fornire un'ottima soluzione per l'utente o azienda che richieda un sistema economico ottimo per navigare, operare in gestionali o suite per l'ufficio e riprodurre file multimediali.
Tra le principali caratteristiche troviamo una SSD da 32 GB, uscita video / audio HDMI e DisplayPort, porte USB 3.0 e USB 2.0 oltre WiFi AC Dual-Band ed Ethernet.
Dell Inspiron Micro Desktop sono disponibili anche con mouse e tastiera e monitor da 23,8 pollici con processori Intel Celeron J1800 o Pentium J2900.
Caratteristiche Dell Inspiron Micro Desktop:
processore: Intel Celeron J1800 (dual core da 2.58 GHz / 1M Cache) o Intel Pentium J2900 (quad core da 2.67 GHz / 2M Cache)
gpu: Intel HD Graphics
ram: 2 GB che possiamo espandere fino a 16 GB
storage: eMMC da 32 GB
connettività: Wi-Fi AC Dual-Band, Bluetooth 4.0 ed Gigabit Lan 10/100/1000 Mbps
porte: 1 porte usb 3.0, 4 porte USB 2.0, 1 HDMI, 1 DisplayPort, 1 card reader
sistema operativo: Windows 8.1 with Bing 64-bit
Dell Inspiron Micro Desktop viene attualmente commercializzato per il mercato statunitense solo con Windows 8.1 with Bing 64-bit preinstallato a partire da 179 dollari.
Anche se non confermato è possibile un rilascio della versione con Ubuntu preinstallato, sistema operativo che possiamo comunque installare in un secondo momento anche nella versione con Windows 8.1.
Attualmente non conosciamo nessuna data prevista per la commercializzazione del Dell Inspiron Micro Desktop nel mercato italiano, sistema i cui prezzi potrebbero partire da 179 Euro.