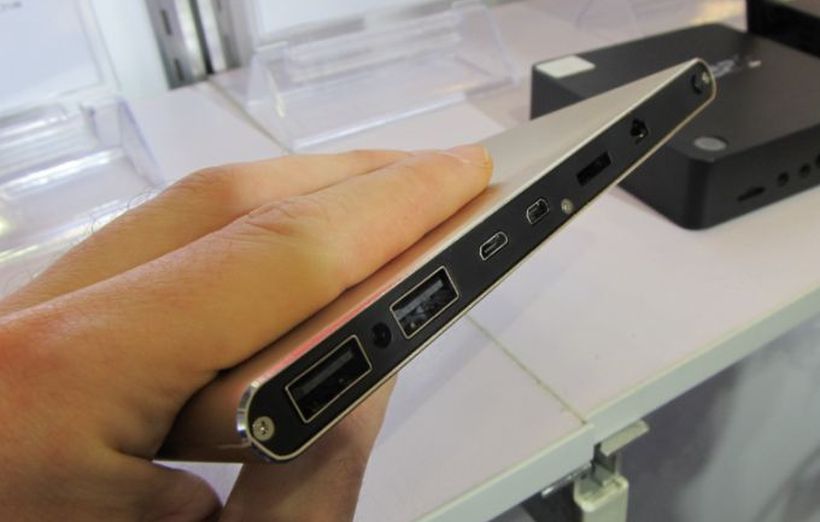 L'azienda produttrice cinese Egreat ha presentato il nuovo mini pc i5 basato su processore Intel, il tutto a circa 100 dollari.
Si è da poco concluso il CES 2015, importante evento nel quale i principali produttori di pc, device mobili ecc hanno presentato diverse novità che troveremo nel mercato nei prossimi mesi. Tra le tante novità presentate al CES 2015 troviamo diversi personal computer compatti, come ad esempio il nuovo i5 di Egreat (azienda produttrice cinese specializzata in mini-pc / box tv Android).
Egreat I5 è un sistema compatto dalle dimensioni molto simili ad un hard disk esterno da 2.5″, basato su processore Intel Atom Quad Core e disponibile sia con Windows 8.1 preinstallato oppure Android o Linux.
Le principali caratteristiche di Egreat i5:
processore: Intel Atom Z3735F quad core da 1.33/1.83 GHz con 2 MB di Cache
gpu: Intel HD Graphics
ram: 2 GB
storage: eMMC da 32 GB espandibile tramite slot microSD
connettività: Wi-Fi 802.11b/g/n e Bluetooth 4.0
porte: 1 micro-USB 2.0, 2 porte USB 2.0, 1 HDMI 1.4a
sistema operativo: Microsoft Windows 8.1 with Bing, Android o Linux
Ecco un video dedicato a Egreat i5:
Egreat i5 dovrebbe essere disponibile in primavera con preinstallato Microsoft Windows 8.1 with Bing, Android o Linux (non viene indicata quale distribuzione) a circa 100 dollari, prezzo a mio avviso davvero molto competitivo.