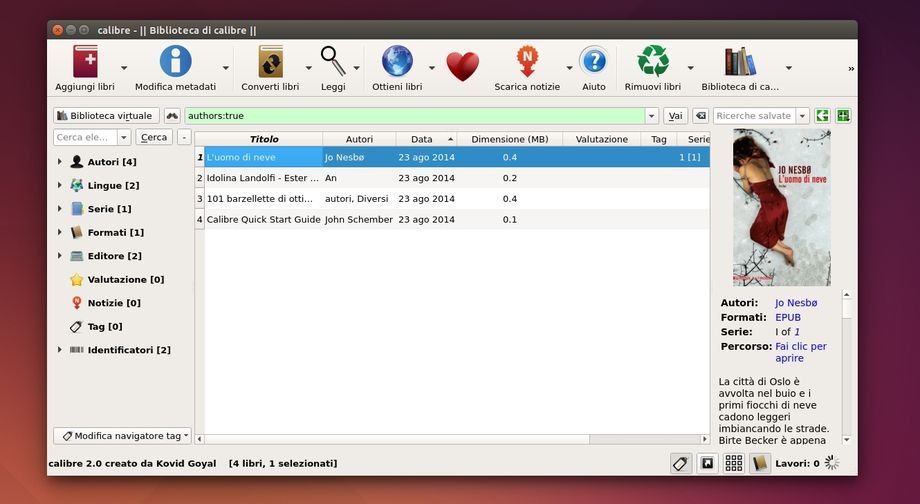 Gli sviluppatori del progetto Calibre hanno rilasciato la nuova versione 2.0 che include il passaggio in Qt5 e altre features.
Calibre è un progetto open source multi-piattaforma che punta a fornire una completa piattaforma per la gestione, modifica, visualizzazione e condivisione di ebook / libri digitali.
Attraverso Calibre potremo gestire la nostra raccolta di ebook nei più diffusi formati come ebup, cbz, mobi, fb2 ecc, potremo inoltre convertire i vari libri digitali e sincronizzarli in ebook reader e device mobili il tutto con estrema facilità grazie ad un'interfaccia grafica semplice e funzionale. I developer del progetto Calibre hanno rilasciato nei giorni scorsi la nuova versione 2.0 stabile, aggiornamento che, oltre alla correzione di diversi bug, include la migrazione in Qt5 rendendo il software più stabile e performante.
Calibre 2.0 migliora l'editor degli ebook
attraverso un'interfaccia grafica rivisitata, per gli user Apple MAC arriva il supporto per MTP introdotto inoltre il supporto per nuovi siti web: General Knowledge Today, BBC Arabic, TIME Magazine, The Atlantic, Down to Earth, Heraldo de Aragon, Radikal (portale turco), Wired Daily Edition e Orange County Register.
Per maggiori informazioni sul nuovo Calibre 2.0 basta consultare il changelog disponibile in questa pagina.
– Installare Calibre 2.0
Calibre 2.0 è disponibile nei repository ufficiali di Arch Linux, Manjaro, Debian SID e altre distribuzioni Rolling Release.
Per installare Calibre 2.0 in Ubuntu e derivate basta digitare da terminale:
sudo python -c "import sys; py3 = sys.version_info[0] > 2; u = __import__('urllib.request' if py3 else 'urllib', fromlist=1); exec(u.urlopen('http://status.calibre-ebook.com/linux_installer').read()); main()"

e confermiamo, al termine possiamo avviare Calibre da menu.