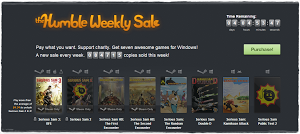 Il team Humble Bundle ha rilasciato la nuova raccolta settimanale "Weekly" che prevede ben l'intera serie di Serious Sam, 7 imperdibili giochi disponibili anche per Android e Linux.


In concomitanza con la conferma dell'arrivo nel 2014 di Serious Sam 4 anche per Linux, Humble Bundle in collaborazione con Croteam ha rilasciato il nuovo
Weekly interamente dedicata alla serie "Serious Sam"
. La nuova raccolta offre ben 7 giochi 5 + 2 bonus nei quali troviamo anche
Serious Sam 3: BFE disponibile anche per Linux e Serious Sam: Kamikaze Attack disponibile anche per smartphone e tablet Android
. La raccolta prevede quindi 5 giochi: Serious Sam HD: The First Encounter, Serious Sam HD: The Second Encounter, Serious Sam: The Random Encounter, Serious Sam Double D, Serious Sam Kamikaze Attack se la nostra offerta è superiore alla media (attualmente 4,30 dollari) riceveremo anche: Serious Serious Sam 3: BFE (che ricordo
cosa ben 27,99€
in Steam) e Serious Sam 2.
Ricordo che una volta acquistata la raccolta di giochi potremo inserire le key in Steam ed installare i giochi all'interno della piattaforma di Valve senza alcun costo aggiuntivo. In
questa pagina
troverete i requisiti minimi per i giochi disponibili nella nuova Humble Weekly dedicata a Serious Sam.
Home Humble Weekly Bundle Serious Sam