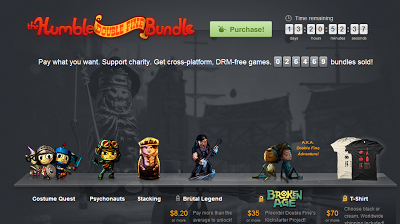 The Humble Bundle ha recentemente annunciato la nuova raccolta di giochi denominata The Humble Double Fine Bundle che comprende ben 3 giochi più 2 bonus tutti disponibili per Windows, Mac e Linux.
The Humble Double Fine Bundle è una raccolta di giochi indipendenti che possiamo acquistare con la classica forma "Pay what you want" (paga quello che vuoi) con la quale oltre a supportare lo sviluppo di nuovi giochi potremo decidere se devolvere una parte della nostra offerta ad uno sviluppatore oppure in beneficenza (Child's Play).
In The Humble Double Fine Bundle avremo a disposizione 5 giochi cross-platform senza DRM che sono:
– Costume Quest
– Psychonauts
– Stacking
offrendo 8.28 dollari (circa 6,30 Euro) o una cifra superiore potremo avere anche il gioco
– Brutal Legend
mentre pagando 35 dollari (circa 26,70 Euro) potremo anche avere il pre-ordine del gioco:
– Broken Age
con 70 dollari (circa 53,50 Euro) potremo riceverete anche una t-shirt.
Costume Quest, Psychonauts e Stacking possono essere anche installati su Steam per Linux, Windows e Mac basta aggiungere la key che ci verrà fornita al momento dell'acquisto dei giochi.
Home The Humble Double Fine Bundle