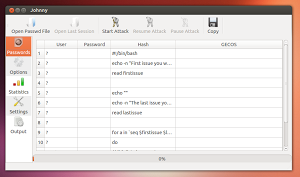 John the Ripper è una famosissima applicazione open source dedicata al cracking delle password. Con John the Ripper è possibile quindi recuperare password da file e applicazioni, sia in sistemi operativi Linux che Windows, DOS, OpenVMS ecc, per un totale di ben 15 piattaforme supportate.
Il successo di John the Ripper (da molti utenti indicato come il n.1 dei programmi per il cracking delle password) è dovuto principalmente al suo modo di operare in diverse modalità di crack. Tra le opzioni troviamo l'autorilevamento di password in hash, fino ad arrivare all'inclusione di un cracker impostabile. Inoltre John the Ripper permette di decriptare password in DES, MD5 e Blowfish oltre a disporre di moduli addizionali con i quali è possibile anche decriptare sistemi MD4, per la maggior parte presenti in LDAP e MySQL. John the Ripper è un tool a riga di comando che può essere gestito facilmente anche da un'interfaccia grafica grazie appunto al progetto Johnny di cui vi parliamo.
Johnny, come si è capito, è un progetto che punta ad offrire un'interfaccia grafica per John the Ripper in modo tale da facilitarne l'utilizzo.
In Johnny è possibile operare con tutte le funzionalità di John the Ripper, inoltre l'applicazione aggiunge nuove funzionalità, come ad esempio la possibilità di salvare le password rilevate negli appunti o in fogli di calcolo, potremo programmare l'avvio del cracking e avere statistiche in tempo reale sull'operazione in corso.
Johnny supporta moltissimi formati di file di input come hash, pwdump, passwd, ecc, l'applicazione inoltre opera sul file di configurazione (~/.john/johnny.conf) cosi da poterlo esportare ed avviare anche da riga di comando.
Johnny – GUI per John the Ripper è disponibile per Ubuntu, Debian, Fedora, openSUSE e derivate scaricando il pacchetto deb o rpm da
questa pagina
.
E' possibile installare Johnny anche su Arch Linux attraverso
AUR
.
Home Johnny – GUI for John the Ripper