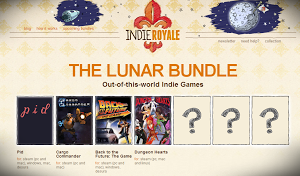 Dal successo delle raccolte di giochi Humble Bundle sono approdate in breve tempo molte nuove raccolte di giochi indipendenti e non con alcuni giochi disponibili anche per Linux.
Tra le ultime arrivate vogliamo segnalarvi The Lunar Bundle la nuova raccolta di giochi indipendenti realizzata dal team Indie Royale e che include quattro bellissimi giochi più altri che approderanno nei prossimi giorni.
In pochi giorni la raccolta ha già venduto oltre 10.000 bundle candidandosi come una delle più apprezzate dopo Humble Bundle.
The Lunar Bundle propone 4 giochi che sono:
Pid – per Windows e Mac
Cargo Commander – per Windows e Mac
Back to the Future: The Game – per Windows e Mac
Dungeon Hearts – per Linux, Windows e Mac
come potete notare per Linux abbiamo solo il gioco di strategia Dungeon Hearts. Con 4 euro circa potremo acquistare tutti e 4 i giochi (solo Dungeon Hearts costa circa 3 Euro su Steam) con un bel risparmio quindi se offriamo più della media attuale potremo anche scaricare Reawakening un album musicale "chiptune" con 11 bellissimi brani.