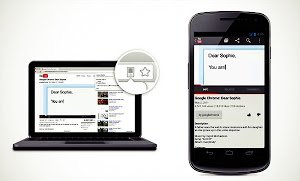 Google in questi ultimi anni è riuscita a sviluppare Chrome uno dei migliori browser non solo per pc ma anche per dispositivi mobili Apple e Android iOS.
Gli
ultimi aggiornamenti
di Google Chrome per Android hanno introdotto diverse migliorie compresa la sincronizzazione di segnalibri, password e la compilazione automatica funzionalità presenti anche nella versione pc.
Per migliorare la sincronizzazione tra la versione pc e mobile di Chrome, Google ha rilasciato un'interessante estensione denominata Chrome to Mobile.
Chrome to Mobile è un'estensione per Google Chrome che ci permetterà di collegare il pc con il nostro smartphone in modo tale da poter inviare una pagina web ad esempio dal nostro pc portatile al nostro smartphone.

L'estensione permetterà di far interagire il nostro pc con Google Chrome Mobile, esempio mentre navighiamo sul portatile dobbiamo andare in bagno basta un click sull'estensione per ritrovare la nostra pagina web sul dispositivo mobile cosi da poter continuare la navigazione.
Chrome to Mobile dispone anche della funzione "Also send copy for offline viewing" che ci permette di passare la pagina sul dispositivo mobile salvandola all'interno del dispositivo in modo tale da poterla consultare anche offline.