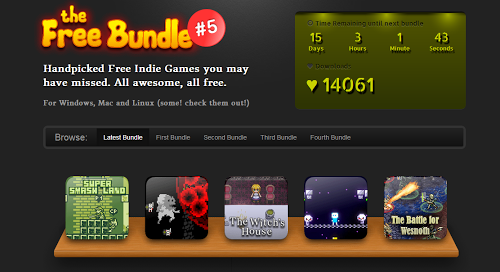 Negli ultimi mesi abbiamo visto approdare moltissimi portali dedicati alle raccolte "Bundle" di giochi indipendenti.
La più famosa è sicuramente la raccolta Humble Bundle la quale contiene bellissimi giochi multi-piattaforma disponibile sia per pc (Linux, Windows e Mac os x) che per dispositivi mobili Android la cui principale caratteristica è la formula di pagamento "pay what you want" (Paga quello che vuoi).
Da pochi giorni è disponibile The Free Bundle 5 nuovissima raccolta di giochi indipendenti che propone giochi gratuiti disponibili sia per Linux, Windows e Mac.
La raccolta The Free Bundle 5 offre ben 6 bellissimi giochi tutti scaricabili ed installabili gratuitamente tra i titoli troviamo anche Slaves of Rema (purtroppo disponibile solo per Microsoft Windows e Mac) gioco venduto a 6 dollari e disponibile gratuitamente in questa raccolta.
Per installare il gioco preferito disponibile nella raccolta The Free Bundle in Linux basta scaricare il gioco e avviare lo script sh presente all'interno e confermare l'installazione. Dal file info troveremo anche informazioni su eventuali dipendenze da installare prima di procedere all'installazione del gioco.
Gli altri cinque titoli presenti in The Free Bundle 5 sono: Super Smash Land, Burn & Turn, The Witch's House, Alter Ego e The Battle for Wesnoth.