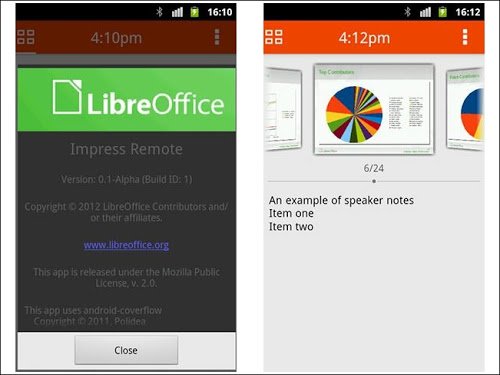 Tra le nuove funzionalità approdate di recente in LibreOffice 4.0 troviamo la nuova funzionalità di Impress la quale ci permette di gestire le presentazioni da dispositivi mobili.
Per gestire la remoto attraverso smartphone o tablet Android le presentazioni di Impress è da poco disponibile in Google Play l'applicazione LibreOffice Impress Remote sviluppata proprio dalla The Document Foundation.
LibreOffice Impress Remote è un'applicazione con la quale potremo operare sulle presentazioni di LibreOffice Impress facendone diventare il nostro dispositivo un vero e proprio telecomando.
Potremo non solo operare avanzando la presentazione ma anche avviare nuove presentazioni, inoltre gli sviluppatori dalla The Document Foundation stanno lavorando per poter interagire anche sulle altre applicazioni della suite con la possibilità ad esempio di aprire un documento di Writer, foglio di calcolo di Calc ecc durante la presentazione.
LibreOffice Impress Remote è già disponibile nella pagina dedicata di Google Play Store.