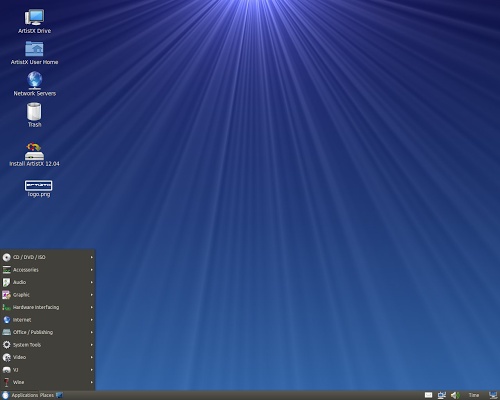 ArtistX è una distribuzione Linux che punta ad offrire un studio di produzione multimediale completo utilizzando software liberi.
Basata su Ubuntu, ArtustX offre di default moltissime applicazioni dedicata alla gestione, creazione e modifica di file multimediali.
Da poco disponibile nella nuova versione 1.3, ArtistX si basa su Ubuntu 12.04 Precise offrendo quindi un supporto per ben 5 anni, la nuova release viene rilasciata con ambiente desktop KDE 4.8 e kernel 3.0.0.
ArtistX 1.3 viene rilasciato in modalità il livdDVD installabile aggiunge anche Gnome come ambiente desktop alternativo (nella sessione Fallback) e offre molte applicazioni presintallate oltre ad avere già preinstallati i principali codec audio e video, flash player, font Microsoft ecc. L'ambiente desktop KDE inoltre viene rilasciato con alcune personalizzazioni come un tema dedicato (simile al tema Ambiance di Ubuntu), l'integrazione di nuovi sfondi e molti nuovi font.
Tra le applicazioni preinstallate troviamo:
2D Graphic Software: Gimp, Inkscape, Nip2, Krita, Synfig, Rawstudio, Skencil, Hugin.
3D Graphic softwares: Blender, Wings3D, K3D.
Video softwares: Cinelerra, Openshot, Kino, Kdenlive, Pitivi, Avidemux, Devede, and many others.
Video and Music players: Mplayer, Videolan, Xine, Kaffeine, Kmplayer, LastFM and many others.
Music software: PD and externals, Rosegarden, Ardour, TerminatorX, Cecilia/Csound.
Per maggiori informazioni su ArtistX 1.3 in
questa pagina
troverete le note di rilascio.