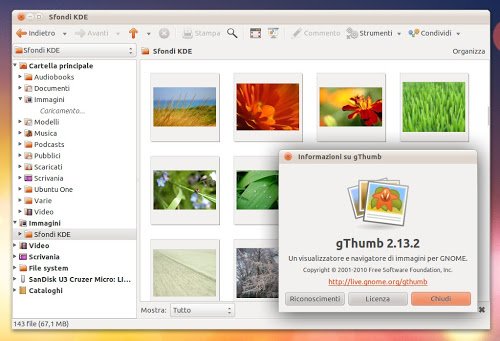 Il team Gthumb, da pochi giorni ha rilasciato la nuova versione 2.13.2 la quale porta nuovi e importanti miglioramenti. gThumb 2.13.2 aggiunge la possibilità di ruotare l'immagine a gradi variabili e non con i predefiniti 90 / 180. Aggiunge il nuovo comando copia immagine negli appunti e incolla immagine negli appunti, inoltre possiamo rimuovere con un click tutti i metadati dell'immagine. Aggiunta la visualizzazione della mappa per visualizzare la posizione geografica in cui è stata scattata la foto.
gThumb è un'applicazione che ci permette di navigare tra le immagini, che possono essere organizzate in cataloghi, o visualizzate in modalità slideshow (presentazione), permette di creare segnalibri sulle cartelle e sui cataloghi e di aggiungere commenti alle immagini. Permette anche di acquisire le immagini direttamente dalle fotocamere digitali (via gPhoto).

Possiamo inoltre compiere operazioni sulle immagini: copia, spostamento, cancellazione, stampa, zoom, conversione del formato oltre a semplici operazioni di image editing: rotazione, ridimensionamento, cropping e aggiunta di filtri alle immagini (regolazione di colore, luminosità e contrasto) gThumb può esportare album fotografici su web applicando vari template in maniera semplice: permette in tal modo di poter caricare gli album su siti web in maniera molto semplice.
Le novità di Gthumb 2.13.2:
Added a sharpen tool.
Added a tool to rotate images of any degree. (Stefano Pettini) (#627563)
Added "copy image to clipboard" and "paste image from clipboard".
Added a map view to view the geographical position where the picture was taken.
Added tool to delete files metadata.
Disable the screensaver when playing videos or slideshows.
Crop: added ability to maximize and center the selection.
Rename series: added a dialog to edit the filename template.
Resize images: added ability to select the file format.
Slideshow: make the animations smoother.
Moved the extensions activation in the preferences dialog.
Pressing the delete key in a catalog removes the file from the catalog instead of deleting the file from disk (#623620)
Image selector: show the active resize grip.
Red eye removal: exit from the tool only when the ok button is clicked.
Added VIDEO and DESKTOP directories to the entry point list.
Added the entry points to the bookmark menu as well.
For more info and a list of bugs fixed, see this.
Per installare
Gthumb 2.13.2 su Ubuntu 11.04
dovremo aggiungere i
PPA WebUpd8 gThumb
, per farlo avviamo il terminale e digitiamo:
sudo add-apt-repository ppa:webupd8team/gthumb
sudo apt-get update
sudo apt-get install gthumb
e confermiamo.
VIA | ppa.webupd8