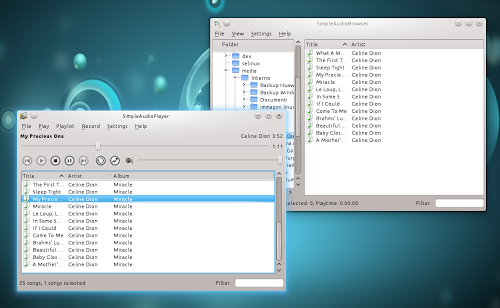 Nuova release per SimpleAudioPlayer semplice player audio, specifico per ambiente desktop KDE, con il quale potremo con semplicità ascoltare i nostri file audio preferiti, oppure ascoltare e registrare le nostre radio preferite in streaming. SimpleAudioPlayer permette di regolare la qualità audio d'uscita con un equalizzatore a 16 bande, inoltre grazie alla semplice interfaccia ci permette di effettuare ricerche veloci nella nostra collezione musicale.
L'utilizzo è semplicissimo possiamo aggiungere i file con un semplice drag&drop oppure aggiungere i file da noi preferiti attraverso File -> open with… Inoltre possiamo aggiungere, ascoltare e registrare le stazioni radio in streaming (per i link consiglio QUESTA pagina) e poi salvarli in una playlist.

Le novità della nuova versione 1.0.6:

– Program 'SimpleAudioBrowser' added
– Removed the program sapl2xspf
– It is no longer necessary to specify the waiting time for playback.
– The menu bar can be hidden.
Per installare SimpleAudioPlayer 1.0.6 su Ubuntu, Debian, openSUSE, Fedora e Mandriva in QUESTA pagina troveremo i pacchetti specifici per la nostra Distribuzione Linux!