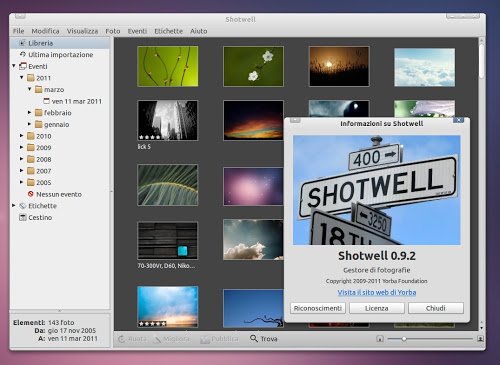 Nuovo aggiornamento per Shotwell, in queste ore rilasciato la nuova versione 0.9.2 non aggiunge nessuna novità va solo a correggere alcuni bug che vanno a migliorarne la stabilità e sicurezza del programma. La nuova Shotwell 0.9.2 corregge alcuni bug per il caricamento di immagini verso Flickr e per la creazione di album su Picasa.
Shotwell è un programma (di default su Ubuntu e Fedora) con il quale potremo organizzatore al meglio le nostre foto digitali.
Consente di importare le foto dalla fotocamera, visualizzarle e modificarle per poi condividerle con gli altri. Shotwell integra alcune feature di editing fotografico come il bilanciamento dei colori e la rimozione degli occhi rossi, ritagliare immagine e correzione/miglioramento con un click.

Le novità della nuova versione 0.9.2
Resolves translation issue where shotwell.mo is installed in wrong location
Fixes issue where cancelling Flickr upload can crash Shotwell
Fixes issue where creating a Picasa Web album with an ampersand in the name crashes Shotwell
Resolves bug where selecting "Publish" in single photo mode publishes the entire library instead of the selected photo
Async I/O in publishing operations is now stopped when the user cancels the operation
Issue fixed on Fedora where the text was cut off in publishing dialog
Fixes issue with ratings filter where it didn't function when the search bar was hidden
Per installare Shotwell 0.9.2 su Ubuntu 10.10 Maverick digitiamo da terminale quanto segue:
sudo add-apt-repository ppa:yorba/ppa
sudo apt-get update
sudo apt-get install shotwell
e confermiamo.