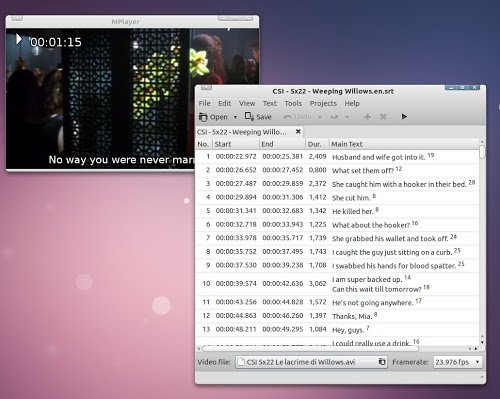 Normalmente i sottotiloli sono già presenti nei
Dvd Video e Blu-ray
mentre se utilizziamo un
video Divx
dobbiamo aggiungere al video il file di norma .
sub
. Non sempre però
i file sub
sono sempre corretti può succeddere per esempio che manchi qualche parte di testo oppure non siano sincronizzati correttamente per aiutarci a correggere i nostri sottotitoli possiamo utilizzare
Gaupol.
Gaupol è un editor di sottotitoli per file di sottotitoli basati su testo. Supporta moltissimi formati e mette a disposizione gli strumenti utili per correggere il testo e sincronizzarlo con il video.
L'interfaccia grafica è stata disegnata seguendo le linee guida di gnome con attenzione all'elaborazione in blocco di documenti multipli e ad una comoda traduzione, inoltre è presente il supporto per gestire file in modalità batch.
I formati supportati sono:
* Advanced Sub Station Alpha (.ssa)
* MicroDVD (.sub)
* MPL2 (.txt)
* MPsub (.sub)
* SubRip (.srt)
* Sub Station Alpha (.ssa)
* SubViewer2 (.sub)
* TMPlayer (.txt)
Le novità della nuova versione 0.17.2:
* Add framerate 24.0 fps found on Blu-rays and use three decimals for all framerates (#580345)
* Fix broken inheritance of action classes, which caused Gaupol to fail to start with recent versions of (Py)GTK (#643958)
* Fix previewing of changes in position shift and transformation dialogs
* Fix eternal loop when opening translation files and having existing zero-duration subtitles
* Fix names of filetype filters in open dialog
* Update author email address
* Abandon use of Transifex for translations
* Add Turkish translation
Per installare Gaupol 0.17.2 su Ubuntu 10.10 Maverick e 10.04 Lucid basta scaricare il pacchetto dal link posto sotto:
download Ubuntu 10.10 Maverick i386/amd64
download Ubuntu 10.04 Lucid i386/amd64
Gaupol 0.17.2 possiamo anche installarlo attraverso i PPA LffL Maverick e LffL Lucid per maggiori informazioni basta consultare QUESTO articolo.