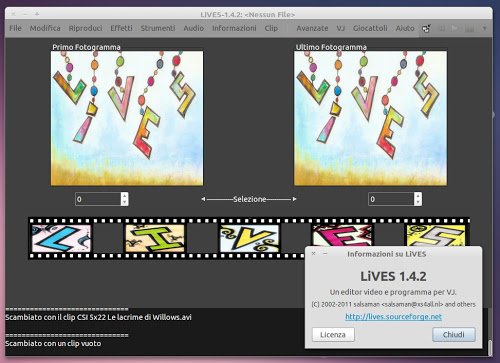 LiVES 1.4.2 – La nuova versione va a correggere un problema segnalato nella versione precedete inoltre aggiunge nuovi comandi omc quali /lives/constant/value/get, /video/loop/set, /video/loop/get, /video/pingpong/set, e video/pingpong/get
Per chi non la conoscesse
LiVES
è un' applicazione specifica per l
'editing video per GNU/Linux
: disegnata per essere semplice da utilizzare ma allo stesso tempo potente e completa, è dotata di una gamma di strumenti ampia e completa, per compiere numerosissime operazioni sui propri file multimediali.
Con
LiVES
possiamo
tagliare, modificare, mixare ed assemblare video
, con una semplicità unica. Nonostante ciò, i video realizzati restano di qualità assoluta, rendendo tale applicazione degna di tutte le principali rivali più conosciute e diffuse. Si tratta di un tool versatile e flessibile, grazie al quale non bisogna più preoccuparsi di formati, in quanto ne supporta circa 50, grandezza dei frame o framerate, ed inoltre, è possibile programmarlo per utilizzare un server video. Infine, le sue già numerose feature possono essere estese tramite l'installazione di plugin aggiuntivi.
Le novità della nuova LiVES 1.4.2:
Missing plugins omitted from the last release have been restored. Device listing for the vloopback output plugin has been fixed. The new omc commands /lives/constant/value/get, /video/loop/set, /video/loop/get, /video/pingpong/set, /and video/pingpong/get were added. libweed has been updated to 0.5.0. Translations to Simplified Chinese and Hungarian were updated
Per installare LiVES 1.4.2 su Ubuntu 10.10 Maverick e 10.04 Lucid utilizzeremo i PPA LffL Lives per farlo basta digitare da terminale:
sudo add-apt-repository ppa:ferramroberto/lives
sudo apt-get update
sudo apt-get install lives
In caso di nuove versioni basterà aggiornare la distribuzione.