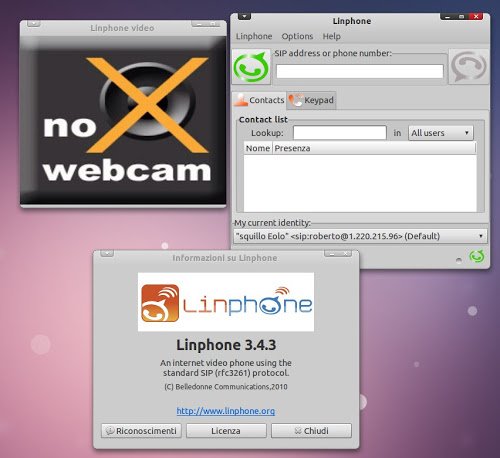 Linphone è un'applicazione specifica per la telefonia via internet Voip basata sul protocollo SIP, L'applicazione permette di effettuare anche videochiamate includendo al suo interno diversi codec video, oltre che audio, supporta i protocolli IPv4 e IPv6 per il trasferimento dei pacchetti dati, offre uno strumento per la gestione della rubrica dei contatti. Per utilizzare al meglio Linphone come strumento per le telefonate è indispensabile possedere un account presso un provider VoIP, e per effettuare videochiamate in ambiente Linux è necessario possedere una webcam che utilizzi i driver V4L e V4L2.
Le novità della nuova versione 3.4.3:

This release brings various fixes (SIP messages too big, memory usage of log window). Also and for the first time a Mac OS standalone package is available !
Per installare o Aggiornare Linphone 3.4.3 Ubuntu 10.10 – 10.04 dobbiamo utilizzare i PPA Linphone per farlo basta avviare il terminale e scrivere
sudo add-apt-repository ppa:felix.lechner/linphone-ppa
sudo apt-get update
sudo apt-get install linphone
e confermiamo
Se cercate un'ottimo servizio Voip consiglio Squillo di Eolo per maggiori informazioni basta consultare QUESTA pagina