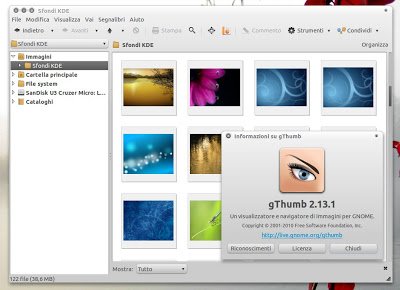 Novità in casa Gthumb, da pochi giorni è disponibile la nuova versione 2.13.1 la quale porta nuovi e importanti miglioramenti. Sono stati aggiunti 2 nuovi strumenti, il primo per la ricerca e rimozione delle immagini duplicate il secondo che ci permette di creare un'immagine contente tutte le miniature selezionate.
gThumb è un'ottima applicazione che ci permette di navigare tra le immagini, che possono essere organizzate in cataloghi, o visualizzate in modalità slideshow (presentazione), permette di creare segnalibri sulle cartelle e sui cataloghi e di aggiungere commenti alle immagini. Permette anche di acquisire le immagini direttamente dalle fotocamere digitali (via gPhoto).
Possiamo inoltre compiere operazioni sulle immagini: copia, spostamento, cancellazione, stampa, zoom, conversione del formato oltre a semplici operazioni di image editing: rotazione, ridimensionamento, cropping e aggiunta di filtri alle immagini (regolazione di colore, luminosità e contrasto) gThumb può esportare album fotografici su web applicando vari template in maniera semplice: permette in tal modo di poter caricare gli album su siti web in maniera molto semplice.
Le novità di Gthumb 2.13.1:
Re-added ability to view file comments in the file list
Added ability to drag files with the middle mouse button to allow the user to choose the action to perform
Added ability to move catalogs with drag&drop
Change date tool: added the ability to shift dates by any offset
Crop tool: added a new grid mode to view the center lines of the current selection
Added ability to search and filter files with a single tag
New thumnail style: round corners; Another change to the thumbnails which will now use thr same height – this allows to avoid
scroll jumps when loading the thumbnails listed before the currently
visible ones
Added a comment filter that ignores automatic camera comments such as "SONY DSC", "OLYMPUS DIGITAL CAMERA", etc
Re-added the 2.10 semi-trasparent property box in fullscreen mode. The 'i' key shows/hides the property box
Print: allow to specify the number of rows and columns; allow to specify the header and the footer of the pages
Allow to rename the files in a catalog
Many other minor tweaks and bug fixes
Per installare
Gthumb 2.13.1 su Ubuntu
10.10 – 10.04 dovremo aggiungere i
PPA WebUpd8 gThumb
, per farlo avviamo il terminale e digitiamo:
sudo add-apt-repository ppa:webupd8team/gthumb
sudo apt-get update
sudo apt-get install gthumb
e confermiamo.
ringrazio
webupd8
per la realizzazione dei PPA/pacchetti