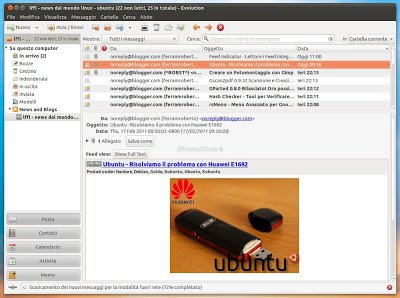 Come abbiamo più volte segnalato tramite i feed possiamo rimanere costantemente aggiornati, raccogliendo informazioni da diversi siti. Possiamo leggere i Feed direttamente dal nostro Browser anche grazie ai servizi web come Google Reader, oppure esistono programmi dedicati come Liferea, RSSOwl ecc. Inoltre possiamo, grazie ad un semplice plugin, consultare i nostri Feed direttamente da Evolution
Evolution RSS Reader Plugin
(
Evolution-rss
) è un plugin che ci permette di avere un
lettore feed incorporato nel nostro Evolution
, eliminando la necessità di avere un
lettore RSS
separato. Inoltre ogni notifica ci verrà segnalata direttamente come fosse un messaggio email.
Per aggiungere i nostri feed (
una volta installato il plugin
) avviamo
Evolution
e portiamoci in
Preferenze
->
Notizie Feed
e da li possiamo aggiungere un'url. Da li possiamo anche importare liste di feed create con altri lettori (
anche google reader
).
Novità della nuova versione 0.2.3:
Fix parsing of ref=alternate nodes
Do not pass empty string to strcasecmp
Fix fetch feed operation progress bar
Allow build with newer webkit
Fix parsing children nodes
Remove excessive debug warnings
Init rss folder hooks later
Print imported feed url in case cannot lookup channel name
Use ref alternate in atom feeds to get feed link
Per installare Evolution RSS Reader Plugin 0.2.3 su Ubuntu 10.10 Maverick e Ubuntu 10.04 Lucid basta scaricare il file .deb dal link posto sotto cliccarci sopra e confermare
Ubuntu 10.10 Maverick
Ubuntu 10.04 Lucid
Evolution RSS Reader Plugin 0.2.3
lo possiamo anche installare attraverso i PPA LffL Maverick e Lucid per maggiori informazioni basta consultare
QUESTA
pagina.