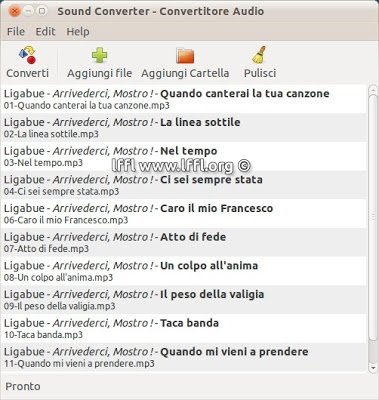 Soundconverter è una semplice applicazione, specifica per Gnome, per convertitore file audio nei più diffusi formati. L'applicazione permette di convertire qualsiasi formato audio supportato da GStreamer nei più diffusi formati quali Ogg Vorbis, FLAC, o in formato WAV o MP3 se dispone del plugin GStreamer LAME. Usarlo è molto facile basta cliccare su "Add File" e selezionare i file da convertire, clicchiamo su Edit -> Preferenze e selezioniamo la cartella dove verranno estratti i file convertiti e il formato da convertire ora non ci resta che cliccare su "Converti". Inoltre l'applicazione permette di convertire il contenuto di intere cartelle, avendo così modo di convertire, in un solo colpo, diversi file in un unico formato.
Le novità della versione 1.5.4:

This release fixes crash when displaying notifications if the notify daemon is down. It fixes a crash when using CLI mode, fixes destination folder quoting, and fixes missing track numbers when writing to AAC files. Translations have been updated.
Per installare SoundConverter 1.5.4 su Ubuntu 10.10 Maverick e 10.04 Lucid basta scaricare i pacchetti posti sotto e cliccarci sopra e confermare.
download Ubuntu 10.10 Maverick 32/64 bits
download Ubuntu 10.04 Lucid 32/64 bits
In alternativa possiamo installare SoundConverter anche attraverso i PPA LffL Maverick e Lucid Extra per maggiori informazioni consultate QUESTA pagina.