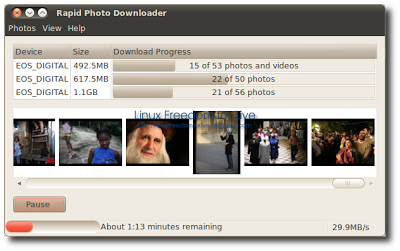 Rapid Photo Downloader è un'applicazione per scaricare le nostre fotografie dalla nostra macchina digitale nel nostro pc e inviarle ad un server in maniera veloce e semplice. Creato da un fotografo per i fotografi dice lo slogan nel sito del produttore possiamo anche rinominare velocemente tutte le foto, crea automaticamente delle cartelle per differenziarne le foto per tipo (come noi precedentemente abbiamo preimpostato), e molte altre funzioni.
Le novità della nuova versione 0.3.4:

Enable zooming in and out of preview image.
Extraneous white space is now more effectively stripped from serial number metadata and folder names.
Fixed bug #685335: inaccurate description of python packages required for downloading videos.
Added Croatian translation. Updated French, Norwegian Bokmal, Polish and Russian translations.
Per installare/aggiornare Rapid Photo Downloader 0.3.4 su Ubuntu 10.10 – 10.04 – 9.10 basta avviare il terminale e digitare:
sudo add-apt-repository ppa:dlynch3/ppa
sudo apt-get update
sudo apt-get install rapid-photo-downloader
e confermiamo.
In caso di future nuove versioni ci basterà aggiornare la nostra Distribuzione.