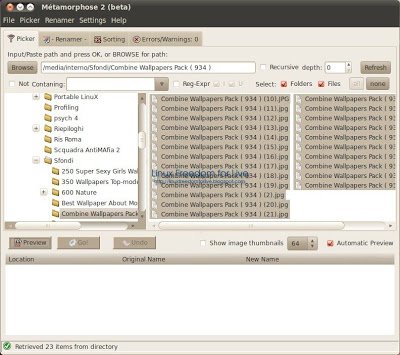 Métamorphose è un applicazione che permette di rinominare in massa file e cartelle. Uno strumento di rinomina con funzioni potenti, adatto per coloro che hanno bisogno di rinominare file e cartelle con una certa frequenza. In aggiunta alle operazioni di uso generale, risulta utile per collezionare musica e foto, per i webmaster, per programmatori, ecc.
Le novità della nuova versione 0.8.1:

Fixes/Changes:
· Major re-arrange of source file structure for more logical layout.
· Major work on modularizing internal components. This will allow many future improvements and features.
· Code style updates.
· Removal/merging of redundant code.
· Some minor speed improvements.
Additions:
· Recursive renaming of folders. (Highly experimental, only active in debug mode)
· Command line option : set auto mode level
· More debug and time outputs.
Per installare Métamorphose 2 su Ubuntu utilizzeremo i PPA dedicati per farlo avviamo il terminale e digitiamo

sudo add-apt-repository ppa:ianare/ppa
sudo apt-get update
sudo apt-get install metamorphose2
Per installare Métamorphose 2 su Debian, Fedora, openSUSE, Mandriva e Windows in QUESTA pagina troveremo i link per il download