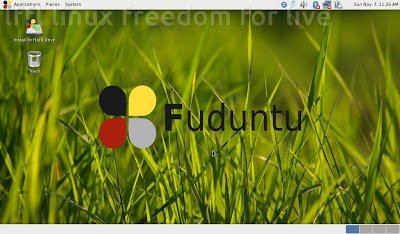 Fuduntu
è una versione di
Fedora 14
creata per essere utilizzata su netbook o desktop, sopratutto sui Pc Eee di Asus.
Tra le principali novità troviamo già di default Jupiter, un'applet che offrire le funzionalità di SHE anche a coloro i quali utilizzano sistemi operativi Linux e netbook non necessariamente a marchio Asus.
Grazie ad una comodissima icona nella systray, con Jupiter possiamo cambiare diverse modalità, impostare il risparmio energetico, disattivare al volo il Wi-Fi, il Bluetooth, il touchpad, selezionare diverse risoluzioni per lo schermo e molto altro ancora. Inoltre troviamo già preinstallati OpenOffice, GIMP, Tomboy, Inkscape, Revelation, VIM Enhanced e Pidgin.
Le novità della nuova versione 14.8:


This update is released as a normal update for existing Fuduntu users and as the first quarterly Fuduntu ISO release for 2011. The most notable change in this release is the addition of Linux Kernel 2.6.37, and the retiring of the BFS scheduler. This quarterly release rolls up all changes made since 14.7 into new installable media for new users. I know it's only been 2 days since the 14.7-7 update, but with the release of Linux kernel 2.6.37 I felt it necessary to push version 14.8 out a little earlier than originally planned. I hope that you enjoy the latest release of Fuduntu Linux.
Per maggiori informazioni consultare la home del progetto accessibile da QUESTA pagina