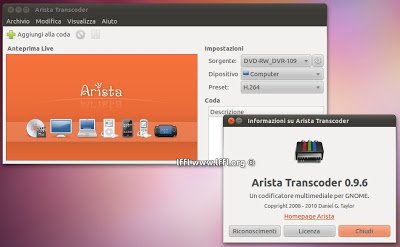 Il team
Arista Transcoder
ha voluto chiedere il 2010 con la nuova
0.9.6,
versione che, oltre a correggere alcuni bug riscontrati nelle versioni precedenti, aggiorna i preset di default.
Arista Transcoder è un programma che consente di convertire i nostri file multimediali, nei formati dei più diffusi dispositivi portatili. Arista riconosce in automatico i dispositivi Video4Linux ed i DVD, i preset al momento disponibili per la conversione sono: Apple iPod (m4v), Cowon D2 (avi), Computer (mp4, avi, mpg), Sony PSP e Playstation 3 (mp4).
Le caratteristiche principali di Arista Transcoder sono:

I preset per iPod, computer, lettore DVD, PSP, Playstation 3, iPod, ecc
L'anteprima in tempo reale per vedere la qualità di conversione
La ricerca automatica di DVD e dispositivi Video 4 Linux (v4l)
Rip da DVD (richiede libdvdcss)
Rip da dispositivi v4l
Aggiornamento automatico dei preset
Le novità della nuova Arista Transcoder 0.9.6:
Updated default presets, a feature to allow video transforms in templates, and bugfixes.
Per installare Arista 0.9.6 su Ubuntu 10.10 Maverick basta scaricare i file .deb dal link posto sotto cliccarci sopra e confermare
download arista 0.9.6
download nautilus-arista 0.9.6

In alternativa possiamo installare Arista 0.9.6 anche tramite repository LffL Maverick per farlo basta avviare il terminale e scrivere:
sudo add-apt-repository ppa:ferramroberto/maverick
sudo apt-get update
sudo apt-get install arista nautilus-arista
e confermiamo

home Arista