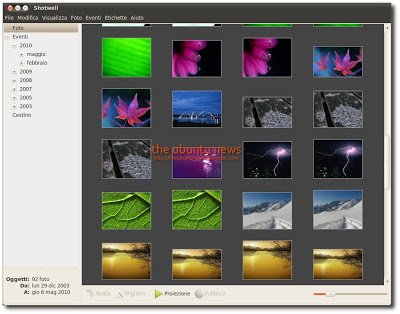 Shotwell è un programma per gestire e organizzare al meglio le nostre Foto da poco giunto alla nuova versione 0.8.0. Tra le principali novità della nuova versione troviamo il supporto per i video, con la possibilità di pubblicarli su Youtube.
Ricordo che Shotwell consente di importare le foto dalla fotocamera, visualizzarle e modificarle per poi condividerle con gli altri. Shotwell integra alcune feature di editing fotografico come il bilanciamento dei colori e la rimozione degli occhi rossi, ritagliare immagine e correzione/miglioramento con un click.
Le novità della nuova versione 0.8.0:

Video support for Ogg, AVI, MP4, Quicktime, and WMV files
Upload videos to major Web services, including YouTube, Facebook, Flickr, and PicasaWeb
Runtime monitoring of library directory
Background writing of metadata to master files
Flagging of photos for batch operations
Set multiple photos to desktop background slideshow
Per installare/aggiornare Shotwell 0.8.0 su Ubuntu 10.10 Maverick digitiamo da terminale quanto segue:
sudo add-apt-repository ppa:yorba/ppa
sudo apt-get update
sudo apt-get install shotwell
e confermiamo.