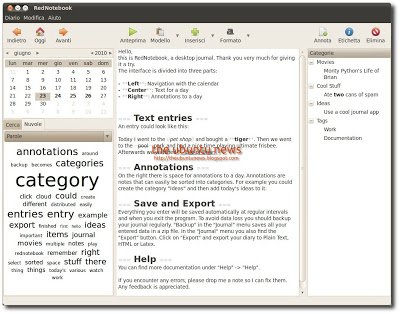 Nuovo, e importante, aggiornamento a RedNotebook, un'applicazione specifica per redigere diari e organizzare i nostri impegni o le nostre note. L'applicazione comprende un calendario di navigazione, i modelli personalizzabili per ogni giorno, la funzionalità di esportazione e la funzione avvisi a fumetto. Inoltre permette la possibilità di inserire file, immagini e collegamenti di suddividere le note in categorie assegnando loro anche dei tag.
Ecco le novità della nuova versione 1.1.2:

This version is the result of four months of development with the help of many beta testers from the RedNotebook users group. Highlights of this version are: fullscreen mode (F11), better search, structured headers, and many bugfixes (especially for the Windows version).


Per installare RedNotebook 1.1.2 su Ubuntu 10.10 Maverick e 10.04 Lucid basta scaricare i pacchetti posti sotto e dare un doppoclick e confermare.

Ubuntu 10.10 Maverick

download Ubuntu 10.10 Maverick i386/amd64

Ubuntu 10.04 Lucid

download Ubuntu 10.04 Lucid i386/amd64
In alternativa possiamo installare RedNotebook 1.1.2 anche tramite PPA LffL Maverick e Lucid per maggiori informazioni basta consultare QUESTA pagina.