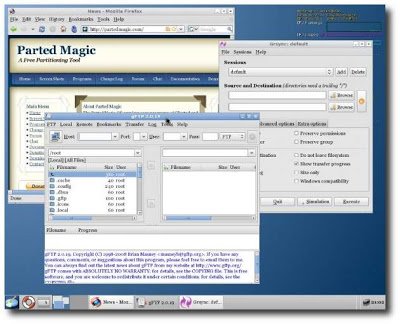 Parted Magic è una distribuzione GNU/Linux Live CD/USB/PXE specificatamente creata e dedicata per il partizionamento e la gestione delle partizioni del proprio hard disk. Questa particolare distribuzione affianca il celebre GParted, con i migliori programmi Open Source dedicati al partizionamento ed operazioni varie di gestione e manutenzione delle partizioni. Parted Magic, offre supporto ai file system più diffusi, tra cui ricordiamo: ext2, ext3, ext4, fat16, fat32, hfs, hfs+, jfs, linux-swap, ntfs, ocfs2, reiserFS, reiser4, xfs, zfs
Le novità della nuova versione 5.8:

Updated: clonezilla-1.2.6-40, plpbt-5.0.11, psensor-0.4.4, linux-2.6.36.2, busybox-1.17.4, nwipe-0.03, simpleburn-1.6.0, syslinux-4.03, clamav-0.96.5, e2fsprogs-1.41.14, gparted-0.7.1
Added: zerofree-1.0.1, cmospwd-5.0, open-iscsi-2.0.871, hfsprescue-0.1, gscite223
New Feature: You can now boot the ISO completely from RAM with MEMDISK (without the need to access the ISO on disk by PM itself).
Download: Parted Magic 5.8 ISO