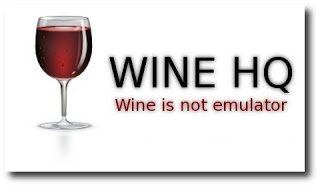 Il team di Sviluppo di Wine ha rilasciato la nuova versione 1.3.9 del famoso non-emulatore utile per utilizzare i programmi Windows su Linux. Nella nuova versione di Wine 1.3.9 che presenta, oltre alla consueta operazione di bug-fix, implementa anche alcune interessanti novità.
Beginnings of support for ActiveX in built-in browser.
Icons on Internet shortcut menu entries.
Standardization of code implementing COM interfaces.
New scheme for auto-generated DLL registrations.
OpenCL library wrapper.
Translation updates.
Various bug fixes.
Per installare o Aggiornare Wine 1.3.9 su Ubuntu 10.10 Maverick utilizzeremo i PPA Wine per farlo basta avviare il terminale e scrivere:
sudo add-apt-repository ppa:ubuntu-wine/ppa
sudo apt-get update
sudo apt-get install wine1.3
Confermiamo ed ecco Wine installato/aggiornato