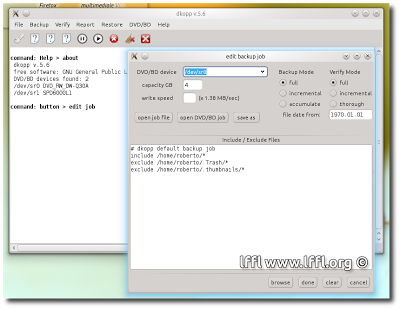 Dkopp
è un' applicazione per copiare o creare backup dei nostri file su
Dvd
. Possiamo utilizzare la modalità incrementale che ci consente di aggiungere file fino a completare la capacità del
Dvd
. Una grafica viene utilizzata per navigare attraverso le directory per selezionare o de-selezionare i file o directory a qualsiasi livello. I file possono essere ripristinati per la stessa o un'altra posizione sul disco. Se abbiamo da creare Backup id dimensioni maggiori della capacità del
Dvd
possiamo creare un Backup su più supporti.
Le novità della nuova versione 5.6 :

Bugfix: enclose DVD label in quotes to prevent failure from imbedded blanks.
Big backup job with multiple DVDs: recovery from write or verify errors was added: if a DVD has a write or verify error, the user is asked for a replacement DVD which is written and verified again.
Workaround: "Unknown error 18446744073709551615" from the "stat" command turns out not to be a real error and can be ignored.
An elementary man page was added. Details are in the user guide.
Per installare su Dkopp 5.6 in Ubuntu – Debian – Fedora – openSUSE basta scaricare il pacchetto dal link posto sotto cliccarci sopra e confermare