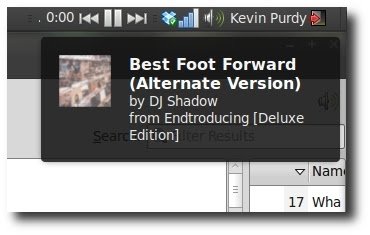 Rilasciata la nuova versione di
Panflute
, semplice applet per Gnome attraverso il quale permette di
controllare qualsiasi lettore musicale è attualmente in esecuzione
.
Con Panflute potremo gestire qualsiasi player audio dal pannello del nostro Desktop, ottima alternativa per i player audio che non sono ancora integrati nel nuovo Sound Menu (solo per Ubuntu 10.10 Maverick). Una delle principali qualità di Panflute è il supporto con molti player audio, inoltre viene tenuto sempre costantemente aggiornato integrando nuovi player.
Le novità della nuova versione 0.7.0:

Panflute 0.7.0 has been released, with lots of improvements. Panflute 0.7.0 adds several new features, such as the ability to control the player's volume, dealing sensibly with multiple players running simultaneously, better support for pausing and stopping playback, the ability to seek by using the mouse's scroll wheel on the time display, and the ability to remove ratings from songs. It also adds support for four more players: Clementine, Decibel, Pithos, and Qmmp. And in case that's not enough, there's also lots of bug fixes, detailed in the release notes.
Per installare Panflute 0.7.0 su Ubuntu 10.10 – 10.04 – 9.10 utilizzeremo i PPA Panflute:
sudo add-apt-repository ppa:kuliniew/ppa
sudo apt-get update
sudo apt-get install panflute