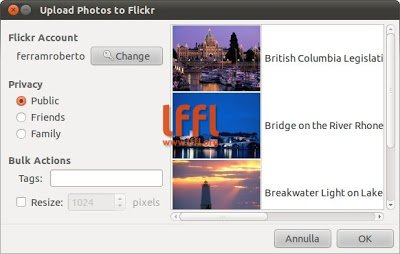 Nautilus Flickr Uploader
è una semplice applicazione che ci permette di
caricare le immagini su Flickr senza utilizzare il nostro Browser
. Al primo avvio dell'applicazione ci verrà chiesto la
conferma del nostro account Flickr
, si aprirà il nostro Browser e verremo indirizzati nella pagine come nella foto sotto.
Basta confermare cliccando su Succ come da foto e ora avremo il nostro account Flickr integrato nella nostra Applicazione.

Ora dovremo selezionare le immagini da caricare su Flickr e cliccando sul tasto destro del mouse avremo nel menu una nuova voce "Upload to Flickr" si aprirà la finestra dove possiamo impostare i Tags che vogliamo associare all'immagine,le dimensioni che vogliamo per l'immagine pubblicata e selezionare semplicemente OK per avviare il caricamento.
Le novità della nuova versione 0.08:
An important bug that occurred while uploading images has been fixed. This bug was a race condition that made the process fail on fast machines. A Russian translation has been added. Packages for Fedora 12, 13, and 14 are available
Per installare Nautilus Flickr Uploader 0.08 su Ubuntu o Debian basta scaricare QUESTO pacchetto, dare un doppioclick su di esso e confermare.
Per installare Nautilus Flickr Uploader 0.08 su Fedora 12, 13 e 14 dovremo aggiungere i repository nautilus-flickr-uploader per farlo avviamo il terminale e digitiamo:
wget http://www.usebox.net/jjm/nautilus-flickr-uploader/repo/nautilus-flickr-uploader-all.repo
su -c "cp nautilus-flickr-uploader-all.repo /etc/yum.repos.d/"
su -c "yum install nautilus-flickr-uploader"
e avremo il nostro Nautilus Flickr Uploader installato

home Nautilus Flickr Uploader