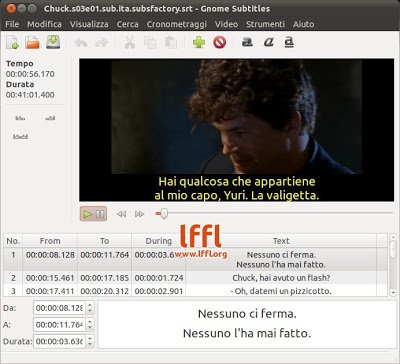 Gnome Subtitles è un'ottima applicazione in grado di creare e modificare sottotitoli per i nostri video. L'applicazione consente di importare o di creare file ( sottotitoli ) nei vari formati, inoltre offre la possibilità di visualizzare il filmato durante la creazione dei sottotitoli, semplificando così l'operazione di sincronizzazione.
Le novità della nuova versione 1.1:

New feature for quickly setting times with a single button: pressing sets the start time, releasing sets the end time, then moves to the next subtitle
Periodically backup subtitle files, configurable in the preferences
New features for video seeking and subtitle selection:
Video->Loop Selection loop the video playback to the selected subtitles
Video->Sek to Selection seek the video to the selected subtitle
Video->Select Nearest Subtitle select the subtitle for the video position
Video->Auto Select Subtitle auto select subtitles as the video is playing
Changes in the Timings Synchronize dialog:
Fixed a bug using the Synchronize All Subtitles option
Activating a sync point now seeks to its new time instead of the old one
Fixed a bug drag-and-dropping files with spaces in their path
Use ISO-8859-1 as the fallback and default encoding in the File Open list
Per installare Gnome Subtitles 1.1 su Ubuntu 10.10 Maverick e 10.04 Lucid basta scaricare i pacchetti posti sotto e dare un doppoclick e confermare.
Ubuntu 10.10 Maverick
download Ubuntu 10.10 Maverick i386
download Ubuntu 10.10 Maverick amd64

Ubuntu 10.04 Lucid

download Ubuntu 10.04 Lucid i386
download Ubuntu 10.04 Lucid amd64
In alternativa possiamo installare Gnome Subtitles 1.1 anche tramite PPA LffL Maverick e Lucid