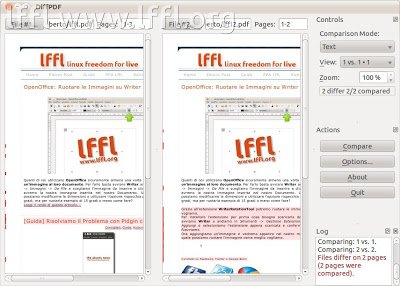 DiffPDF è un programma specifico per confrontare due file PDF. Il confronto avviene in modo predefinito in base al testo di ciascun paio di pagine, ma è gestito anche il confronto dell'aspetto delle pagine (per esempio, se è stato modificato un diagramma o riformattato un paragrafo). È anche possibile confrontare pagine particolari o intervalli di pagine. Per esempio, se esistono due versioni di un file PDF, una con pagine da 1 a 12 e una con pagine da 1 a 13 poiché è stata aggiunta una pagina extra come pagina 4, possono essere confrontati specificando due intervalli di pagine: 1-12 per il primo e 1-3, 5-13 per il secondo. Questo farà sì che DiffPDF confronti le pagine nelle coppie (1, 1), (2, 2), (3, 3), (4, 5), (5, 6) e così via sino a (12, 13).
Le novità della nuova versione 1.1.4:

Improved the reporting of files that are the same.
Per installare DiffPDF 1.1.4 su Ubuntu 10.10 Maverick e 10.04 Lucid basta scaricare il pacchetto dal link posto sotto:
Per Ubuntu 10.10 Maverick
download Ubuntu 10.10 Maverick i386
download Ubuntu 10.10 Maverick amd64
Per Ubuntu 10.04 Lucid

download Ubuntu 10.04 Lucid i386
download Ubuntu 10.04 Lucid amd64
DiffPDF 1.1.4 possiamo anche installarlo attraverso i PPA LffL Lucid o Maverick , per farlo avviamo il terminale e digitiamo:
Per Ubuntu 10.10 Maverick
sudo add-apt-repository ppa:ferramroberto/maverick
sudo apt-get update
sudo apt-get install diffpdf
Per Ubuntu 10.04 Lucid
sudo add-apt-repository ppa:ferramroberto/linuxfreedomlucid
sudo apt-get update
sudo apt-get install diffpdf
e confermiamo