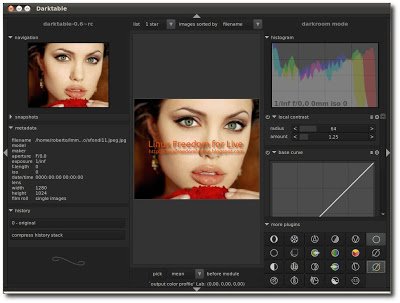 Per chi non la conoscesse Darktable è un'applicazione molto simile sia per stile che caratteristiche ad Adobe Lightroom. L'applicazione è stata realizzata per avere un'alta qualita per l'elaborazione di immagini raw, anche se possiamo elaborare anche formati jpeg, png, ecc Il frontend è scritto in GTK+/Cairo, mentre metadati ed anteprime sono salvati all'interno di un database sqlite3. Darktable lavora solo con valori in virgola mobile e quindi può essere usato anche per immagini scientifiche e non solo per la fotografia.
Ecco le principali caratteristiche:
Editing non distruttivo.
Floating pixel.
Modulare,ed estendibile (plug-in interface) per le operazioni su immagini.
Flessibile query del Database,ricerca per Tag,Tagging facilitato da Tag correlati.
Valutazione delle Immagini (stelle),il filtraggio e l'ordinamento nella query del Database.
Importazione di una varietà di formati di gamma:standard,freddo,dinamico,elevato (ad esempio jpg,CR2,HDR,PFM,ecc).
Interfaccia utente a latenza zero attraverso la cache software multi-livello.
Visualizzazione Fullscreen.
Supporto per il profilo ICC:sRGB,Adobe RGB e RGB lineare.
Esportazione a basso range dinamico (jpg, png, tiff),16-bit (ppm, tiff),o lineare ad alta gamma dinamica (PFM).
Lettura dati Exif utilizzando libexiv2.
Importazione e tonemapping di immagini HDR.
Importazione automatica delle immagini elaborate.
Post processing artistica:Vignettatura e simulazione della Grana.
Sidecars are now XMP instead of .dt. libraw was added with dcraw 9.05. Plug-ins of darkroom mode are now in groups. There are new darkroom plug-ins: zone system, relight, graduated neutral density, and watermark. Changes can now be saved into named processing styles. Custom shooting settings can be added in tethering mode. An initial user manual was written, available in English, German, French, Dutch, and Swedish. The XDG config file standard is now used. Language support now includes the following locales: ca, cs, de, es, fi, fr, gl, it, nl, pl, ru, sq, and sv. Image import now works on directories recursively.
Per installare Darktable 0.7 su Ubuntu 10.10 – 10.04:
sudo add-apt-repository ppa:pmjdebruijn/darktable-release
sudo apt-get update
sudo apt-get install darktable darktable-dbg