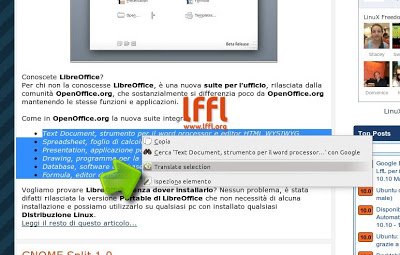 Capita mentre navighiamo di dover trovare articoli (o solo una parte) in lingua straniera, Chrome di default ci permette di tradurre l'intera pagina nella nostra lingua. Se vogliamo tradurre solo una semplice parte di testo con un solo click possiamo utilizzare una semplice estensione denominata Right Click and Translate.
Right Click and Translate è una semplice estensione che con un semplice clic, ci permette di tradurre qualsiasi testo. L'utilizzo è molto semplice basta selezionare la frase e fare dare con il tasto destro del mouse Translate selection e avremo il nostro testo tradotto una piccola finestra vicino al testo. Non conta in che lingua sia il testo Right Click and Translate la tradurrà nella nostra lingua (che abbiamo precedentemente impostato).

Per installare Right Click and Translate sul nostro Chrome/Chromium basta andare in QUESTA pagina e cliccare su Installa.
Una volta installato andiamo in Menu -> Tools -> Estensioni -> Right Click and Translate e clicchiamo su opzioni e selezioniamo la nostra lingua preferita.