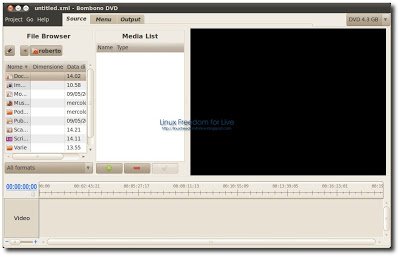 Bombono DVD
è un'applicazione che ci permette di
creare DVD video in maniera semplice e veloce
, anche per i meno esperti.
L'interfaccia grafica è molto simile allo standard di tutti i software di editing video, con una timeline posta in basso, mentre la parte centrale della finestra principale è occupata da un riquadro per l'anteprima, e due colonne per selezionare i contenuti da andare poi ad inserire all'interno del proprio DVD. Attraverso Bombono DVD possiamo anche aggiungere menù di diversi tipi, ed esportare il tutto anche in formato ISO, da masterizzare in seguito su un supporto DVD.
Altre caratteristiche interessanti di Bombono sono la possibilità di trascinare i file all'interno dell'interfaccia dell'applicazione, la possibilità di aggiungere al progetto filmati direttamente da altri DVD, ed una buona velocità di conversione.
Le novità della nuova versione 0.8.0:

Translations: brand new: Czech (Marek Černocký), French (Olivier Girard), Spanish (Carlos Sánchez) updates for languages: Danish, Finnish, Italian, Russian, Vietnamese
"Play All" type of linking, see #33
The program now remembers its size and position on display; sizes of browsers File Browser and Media List are remembered too
Subpicture colors for menus can be adjusted now, in Menu Settings, #26
The only bug been fixed, #35
Menu Editor: Distribute Horizontally/Vertically by tekkno genius
New Frames (Buttons): "shadow", "shadow & white", "shadow2" and "slide" by wronguser
Bombono DVD can now be built with Clang (LLVM) compiler 2.8+ (2.9 if you need PCH support), experimental support); GCC is still out of competition, though
Per installare Bombono 0.8.0 su Ubuntu 10.10 – 10.04 utilizzeremo i PPA Bombono per farlo avviamo il terminale e digitiamo:
sudo add-apt-repository ppa:muravjov-il/ppa
sudo apt-get update
sudo apt-get install bombono-dvd-testing
e confermiamo

Bombono 0.8.0 è presente anche nei PPA LffL Lucid e Maverick per maggiori informazioni consultare QUESTO articolo.