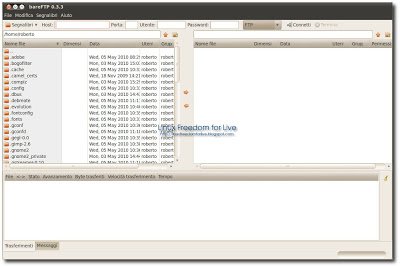 bareFTP è un' client FTP, usa due pannelli e una barra degli indirizzi con le opzioni essenziali. I preferiti si gestiscono come in un browser, un elemento che lo rende ideale per i neofiti. Tra i vari protocolli supportati, oltre all'FTP vi è l'SFTP, e l'FTP su SSL/TLS. Possiamo dire che è un ottima alternativa a Filezilla o gFTP.
Le novità della nuova versione 0.3.7:

This release fixes several bugs and includes new translations and synchronized browsing capability.
Tutte le novità della nuova versione 0.3.7 basta consultare QUESTA pagina.
Per installare/aggiornare bareFTP 0.3.7 su Ubuntu 10.10 – 10.04 – 9.10 utilizzeremo i PPA bareFTP per farlo avviamo il terminale e digitiamo:

sudo add-apt-repository ppa:christian-eide/bareftp
sudo apt-get update
sudo apt-get install bareftp
In caso di future nuove versioni ci basterà aggiornare la nostra Distribuzione.