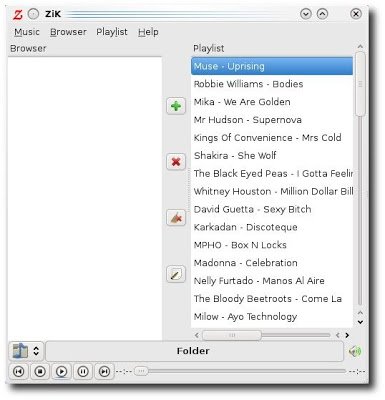 Zik è un semplice player audio basato su gstreamer. Tra le principali caratteristiche di Zik, oltre a riprodurre i file audio, playlist, webradio e CD audio, permette la ricerca in cartelle o playlist ed inoltre possiamo modificare sia le playlist che i tag.
Le novità della nuova versione 0.15:
This release implements an assistant that is shown the first time ZiK is launched. Editing the playlist and searching for tracks are now integrated in the main window. More tracks can be shown in the playlist by using compact view. A man page is now shipped with ZiK. Ruby-taglib2 and a new version of rghk (0.2) and gtk (2.22) are supported. This release fixes some bugs. The French translation was updated
Per installare Zik 0.15 in Ubuntu 10.10 – 10.04 – 9.10 utilizzeremo i PPA Zik per farlo avviamo il terminale e digitiamo:
sudo add-apt-repository ppa:vinc-mai/zik
sudo apt-get update
sudo apt-get install zik
e confermiamo. Al termine avremo il nostro Zik installato.
In caso di future nuove versioni ci basterà aggiornare la nostra Distribuzione.