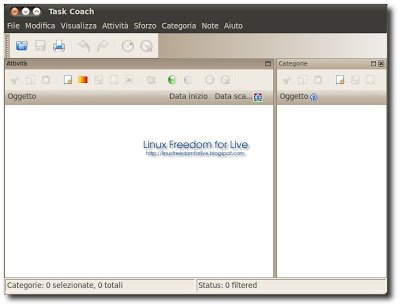 Task Coach un ottimo software per il nostro manager personale. Con Task Coach possiamo creare, modificare, eliminare i nostri impegni e sotto-impegni. Potremo specificare il soggetto, la descrizione, la priorità, la data di inizio e quella di scadenza, e, in più, potremo aggiungere un ulteriore promemoria. Inoltre, possiamo poi visualizzare i vostri impegni sotto forma di lista o in forma di albero e ordinarli in base al soggetto, al bilancio, alla data di scadenza, etc. etc. Task Coach è anche dotato di comodi filtri che vi permettono di visualizzare solo quello che volete (le sole attività in scadenza ad esempio). Task Coach permette di aggiungere ai nostri impegni degli allegati mediante un semplice drag&drop. Il formato dei file creati in Task Coach è XML, ma possiamo esportare i nostri impegni in formato HTML o CSV. Alla lingua italiana si aggiunge la già enorme intuitività del software, resa possibile anche grazie alla presenza di icone belle e molto accattivanti.
Le novità della nuova versione 1.2.1:

Don't refuse to open a task file when it is sorted on a "total" column. (3085056)
Don't expand tasks in the prerequisite tab when opening a task dialog, it's really slow. (3085358)
Always display the month name in the horizontal monthly calendar view. (3062505)
Allow the user to resize columns in horizontal calendar view (3062505)
Reset percentage complete when recurring a task.
When using relative paths for attachments, attachments couldn't be opened from the attachments tab in the edit dialog. (3087177)
Per installare Task Coach 1.2.1 su Ubuntu – Debian – Fedora – openSUSE basta scaricare il file pacchetto dal link posto sotto.
download Ubuntu Debian Fedora openSUSE source