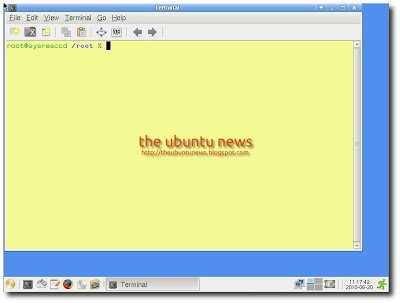 SystemRescueCD è una distribuzione Linux che parte da un CD-ROM avviabile (Live CD) o da una penna USB, utile per riparare sistemi di computer non avviabili e recuperare dati dopo un crash di sistema. Esso vuole inoltre fornire un modo semplice per svolgere attività di amministrazione sul tuo computer, come creare e modificare le partizioni del disco rigido. Contiene molte utilities, sia di sistema (parted, partimage, fstools, …) che di base
Una volta masterizzata l'immagine ISO del CD, avere impostato dal BIOS l'avvio da CD ed avviato il sistema con il CD di SystemRescueCD, dopo aver caricato il kernel ci verrà presentato un prompt dei comandi, per avviare l'interfaccia grafica basta digitare
startx
e premere invio
Le novità della nuova versione 1.6.2:

The standard kernels were updated to 2.6.35.6 (rescuecd + rescue64) and alternative kernels to 2.6.32.23 (altker32 + altker64). GParted was updated to 0.6.4, ntfs3g to 2010.10.2, xorg-server to 1.9.0.901, and xf86-video-nv to 2.1.18. fsarchiver 0.6.10 was patched to make it work on recent btrfs filesystems. More fonts were added.
È disponibile anche una guida, in italiano, accessibile da QUESTA pagina.