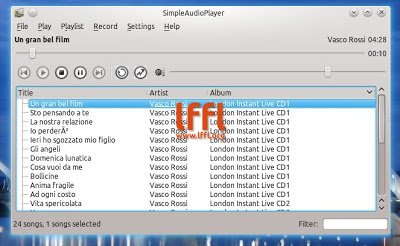 Nuovo Aggiornamento per SimpleAudioPlayer, semplice player audio, specifico per ambiente desktop KDE, con il quale potremo con semplicità ascoltare i nostri file audio preferiti, oppure ascoltare e registrare le nostre radio preferite.
L'utilizzo è semplicissimo possiamo aggiungere i file con un semplice drag&drop oppure aggiungere i file da noi preferiti attraverso File -> open with…
Inoltre possiamo aggiungere le stazioni radio in streaming (per i link consiglio QUESTA pagina) e poi salvarli in una playlist.
Le novità della nuova versione 1.0.4:
The mute button works correct.
A click with the middle mouse button changes the mute mode.
Added spanish translation.
Per installare SimpleAudioPlayer 1.0.4 su Ubuntu 10.04 Lucid e 10.10 Maverick basta scaricare il file .deb dal link posto sotto cliccarci sopra e confermare

Per Ubuntu 10.10 Maverick
download Ubuntu 10.10 Maverick i386
download Ubuntu 10.10 Maverick amd64
Per Ubuntu 10.04 Lucid

download Ubuntu 10.04 Lucid i386
download Ubuntu 10.04 Lucid amd64
In alternativa possiamo installare l'applicazione anche tramite i PPA LffL Extra Lucid e Maverick per farlo basta avviare il terminale e scrivere:
Per Ubuntu 10.10 Maverick

sudo add-apt-repository ppa:ferramroberto/maverickextra
sudo apt-get update
sudo apt-get install simpleaudioplayer

Per Ubuntu 10.04 Lucid
sudo add-apt-repository ppa:ferramroberto/extra
sudo apt-get update
sudo apt-get install simpleaudioplayer
confermiamo e alla fine avremo il nostro SimpleAudioPlayer installato