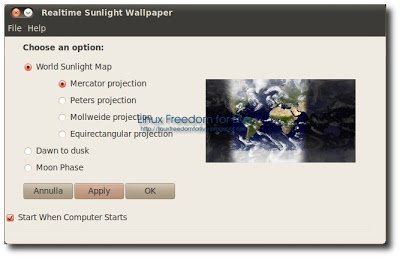 Realtime Sunlight Wallpaper è un'applicazione semplice ma utile, che può recuperare un'immagine da Internet e impostarla come sfondo ogni 30 minuti. Potremo vedere sorgere e tramontare il sole in tutto il mondo e tutto questo in tempo reale.
Tra le varie preferenze troviamo diverse tipologie di Mappe utilizzabili:da quella sferica a quella appiattita,a quella delle fasi lunari,alla mappa dei navigatori (appiattita),o quella degli emisferi. Inoltre possiamo cambiare la mappa con un semplice click del mouse e impostare l'avvio automatico.
Le novità della nuova versione 0.2.1:

Watch the sun rise and set all over the world on this real-time, computer-generated illustration of the earth's patterns of sunlight and darkness. The clouds are updated every 3 hours with current weather satellite imagery.
And every half hour, these images are composited and mapped onto a sphere by xplanet according to the relative position of the sun. The flat maps are post-processed by ImageMagick to cut off the 15 degrees nearest the north and south poles where cloud data is unavailable.
* 4 different types of maps: Mercator, Peters, Mollweide, Equirectangular
* Dawn to dusk
* Moon Phase
Per installare Realtime Sunlight Wallpaper 0.2.1 su Ubuntu 10.10 Maverick e 10.04 Lucid utilizzeremo i PPA Realtime Sunlight Wallpaper per farlo basta avviare il terminale e scrivere:
sudo add-apt-repository ppa:realtime.sunlight.wallpaper/rsw
sudo apt-get update
sudo apt-get install gtk-sunlight
e confermare